Partnering to Lead Senior Living into the Future
Mather Institute regularly collaborates with partner organizations to conduct applied research in the field of aging. This brief brochure provides a snapshot of current projects, revealing a broad scope of topics and partner organizations, all with the common purpose of improving senior living and aging services.
In this Research Review, you'll learn:
the broad range of specific research projects conducted with high-profile research partners
key findings or progress reports on nine different studies
how the Institute serves as an innovation incubator by regularly seeking new research partners for collaborative projects
From this Research Review:
After controlling for age, income, education, and other key variables, Life Plan Community residents tended to have greater emotional, social, physical, intellectual, and vocational wellness than older adults in the larger community.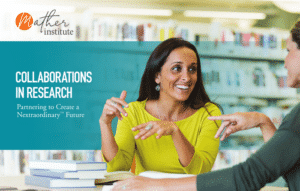 Download your copy of this Research Review:
Collaborations in Research:
Partnering to Create Ways to Age WellSM