Recognizing
the latest applied research in the field
of seniors housing
Seniors Housing & Care Journal is a peer-reviewed annual publication focusing on applied research and best practices in the fields of seniors housing and long-term care. The Journal is distributed to more than 2,000 long-term care managers, executives, and investors at the annual conference of the National Investment Center for Seniors Housing and Care (NIC).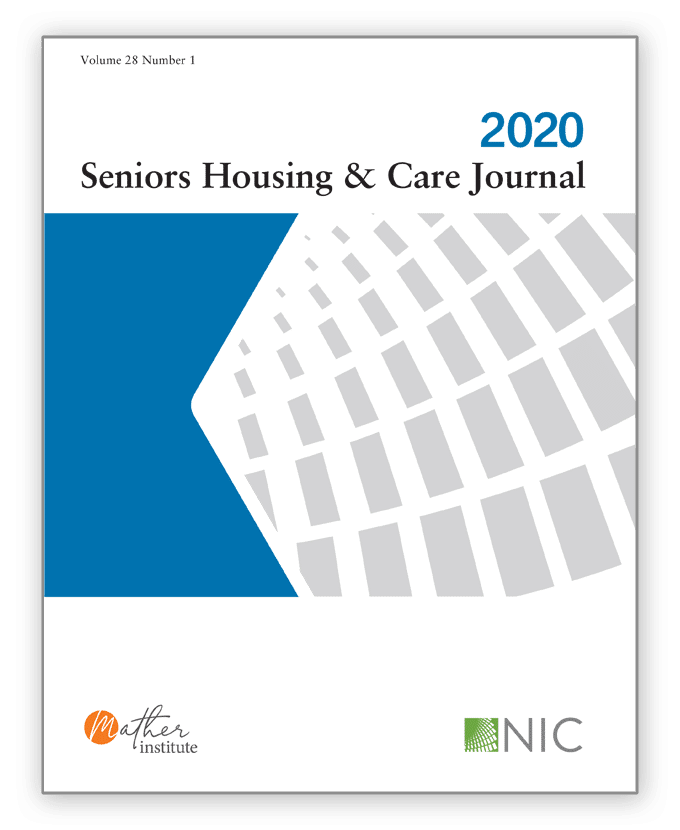 Available from National Investment Center for Seniors Housing and Care
Visit Website
Read about emerging research in senior living
Get the 2020 issue of Seniors Housing & Care Journal. Articles include:
"Can You Just Give Us Something to Help Her?" Off-Label Use of Antipsychotic Medication in Virginia Assisted Living Facilities
Organizational and Health Care Policy Barriers to Providing Mealtime Assistance to Nursing Home Residents With Dementia
Evacuating or Sheltering in Place During a Disaster: The Role of Leadership in Assisted Living
Impact of Tuned Lighting on Skilled Nursing Center Residents' Sleep
Resident Perspectives on the Integration of a University-Sponsored Counseling Program Within a Life Plan Community
Testing the Associations Between the Assisted Living Environment and Residents' Satisfaction With Assisted Living
Long-term Care: Influences on Funding Schemes Among Aging Americans
An Interprofessional Approach to a Palliative Care Training Program and Delivery Model in the Nursing Home
The Rules of Engagement: Using Improvisation to Build Relationship-Centered Care
Benefits and Challenges of Artificial Intelligence Use for Community-Dwelling Older Adults, With Recommendations for Use in Long-term Care
Creative Practices in the Workplace
Seniors Housing & Care Journal is an open access journal. This means that all content is freely available without charge to a user and/or his/her institution. Users are allowed to read, download, copy, print, search, or link to the full texts of the articles in this journal without asking prior permission from the publisher or the author.